This photo (the oval) is 4"H x 3"W and is mounted on a larger sturdy cardboard measuring 7 1/2"H x 4 3/4"W with square edges. The cardboard mount has a double border of a bold gray border outside and an a thinner gray line inside of that.
This image DOES change in the light and gives a "negative image" reflected in the light when tilted and viewed at an angle.
The clothes, hat, props and background have to have some clues to date it. The background appears to have been a painted landscape with trees reflected into water behind the girl and small tufts of tall grass on her right.
She's wearing what appear to be leather gloves. The coat has a huge collar and cuffs to match with BIG buttons down one side. It looks like she has silk bows in her hair underneath a unique hat which has a peculiar but deliberate fold off-center from the front. She has a knotted silk tie with what appears to be tassles at the end.
I sure would love some help with this one! Is it 1910ish or early 1880's?
Please help me if you can
UPDATE
: This mystery solved with the help of Maureen Taylor of FamilyTree Magazine. This picture is my Grandmother, Corrinne Evans Martin as a young girl. See Maureen's analysis here:
Photo Detective: From Girl to Woman
July 15, 2008
by Maureen Taylor
This is Lena on the Left, and the woman on the right looks a lot like her sister-in-law, Edna (Henry's sister). Lena did not have a sister...just one brother. The whole Evans family used to visit and spend vacations at their grandfather's house built here to retire in (Bellaire, Mich). The home stayed in the family until about 1940, and we have many photos of various Evan's families in the summer here together.
This photo (the oval) is 6"H x 3"W and is mounted on a heavy cardboard which is rectangular and measures 8 1/2"H x 4 1/2"W. The oval border is very elaborate and embossed into the card which imprint goes all the way through to the back.
The Photographer was also embossed (originally in gold, as specks of gold still remain in the indent). It reads: W. G. Warner, Bellaire, Mich.
The blouse buttons on the front and has long vertical pleats or darts from the shoulder to the neck. The white bow at the neck is visible. The skirt is belted with a fancy butterfly pattern metal buckle
Lena's image was later reproduced as a single portrait. The reproduction is not very good but is mounted in a cardboard display folder with another Photographer's mark...Cregar (probably in Springfield OH). There appears to be red nailpolish spilled on the original photo and the same red stuff is also visible on the back of the reproduction .
See photo below this text for the reproduced photo
Reproduction of Photo left & above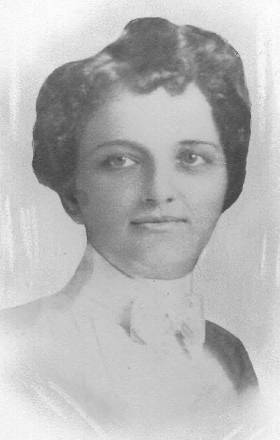 Photo Studio: Cregar, Springfield, OH