I found my 3rd Great Grandparents' graves at the Tombstone Project by the USGenWeb! Jonathan and Deborah Martin. This is Deborah's headstone.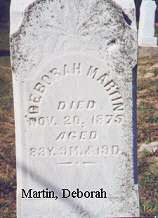 Deborah McLaughlin b. 01 Feb. 1792 d. 20 Nov. 1875
married
Jonathan Martin b. 11 Feb. 1786 d. 2 Dec. 1875 (12 days after Deborah!)

Buried at Bethel Church Cemetery, Saltcreek Twp., Hocking Co., Ohio.

Thanks to Robert M. Sizelove who transcribed and contributed this cemetary to the OHGenweb Tombstone Project.