The following photo was taken abt. 1910. My great Uncle Earl L. MARTIN is the young man with his hand on his hip wearing a vest. He began his career as a grocer, probably working for this store, Philip Schmidt & Sons (no relation). Earl went on to own his own groceries on Linden Ave. & in the Myers Market and later, he was one of the organizers & President of the Springfield Builders Supply Co. He retired about 1944 and lived in Springfield until his death in 1973.
Some research on this store and Philip SCHMIDT revealed the 1893/94 Springfield City Directory listing: Phil. Schmidt, Sr.; Phil. Schmidt, Jr. Schmidt Phil. & Son Dealers in Groceries, Liquors, Fruits and Country Produce 201 W. Main, s w c Plum Springfield OH 1893, 1894
In 1900, the Census showed a Philip SCHMIDT, Jr.:
1900 Census, Clark Co., Springfield, OH
18 N. Plum st. (this was their home address)
SCHMIDT, Philip, b. Nov. 1869, age 30, married for 6 years, b. OH, both parents b. Ger., occup: Grocer
Emma, wife, b. Aug 1872, age 27, had borne 1 child (still living), b. OH, father b. Ger, mother b. OH
Elmer, son, b. Apr 1896, age 4
I'll bet that is Philip Schmidt, Sr. standing in the doorway and probably the son of Philip Schmidt, Jr. sitting up on the wagon. I am no relation to these SCHMIDTs who immigrated from Germany in 1873 and located in Springfield - but I thought it was an interesting old photo to share.
Phil. Schmidt & Sons, 201 Main Street, Springfield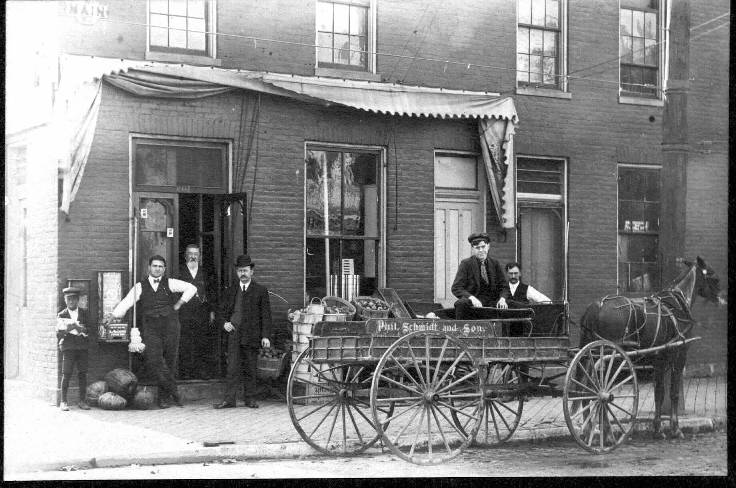 The man with hand on hips is my Great Uncle, Earl MARTIN
The next photo is my GreatGrandfather Henry EVANS grocery store in 1900. This was at 139 W. Columbia St., Springfield. He later relocated to 1801 W. Main St. His wife Lena SHROADES and my grandmother, Corrinne (abt. age 2) are in this photo also.
Henry EVANS grocery Store abt. 1900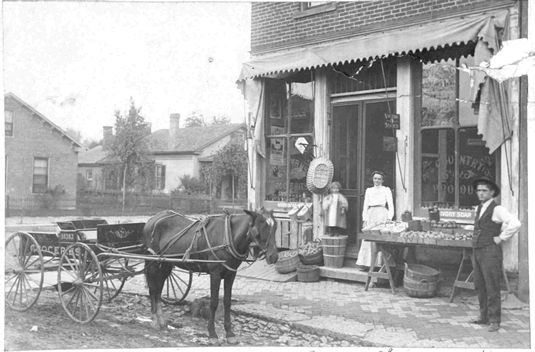 139 W. COLUMBIA STREET, SPRINGFIELD, OH