Rainbow Springs State Park
This park has two separate areas, one at the headsprings which used to be the site of an old tourist attraction and is day use only. It has it's own entrance 3 miles north of Dunnellon on the east side of US 41.

The camping area is located 2 miles north of CR 3484 off SW 180th Avenue. It was formerly a private campground. It offers swimming, canoe rental, and a 3-hour tubing trip down the picturesque, crystal clear Rainbow River. There is an East Campground which is more open and a River Campground which is shadier and closer to the River.

There are 115 campsites, with canoes and tubes available for rent at the campground.

While we didn't camp at the park this trip, we did canoe the river with a group of friends and got some great photos.
We camped at a nearby KOA in Ocala and made our canoe rental reservations though a local canoe outfitter. Nonetheless it was a great trip and we got some great photos to share.

July 4, 1998 Ocala and Dunnellon, Fla.

A Group Trip. We had 10 campers with 5 sites all adjoining. 2 more joined us for the Canoe trip the next day for a total of 12 of us on the River, in six canoes.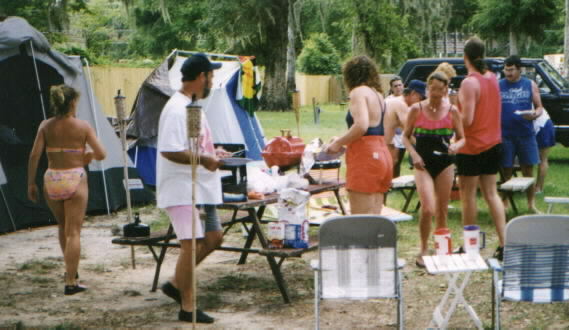 Group Camp West. View of Ken & Donna's tent, screen room for West Camp and Andres & Zulima's tent.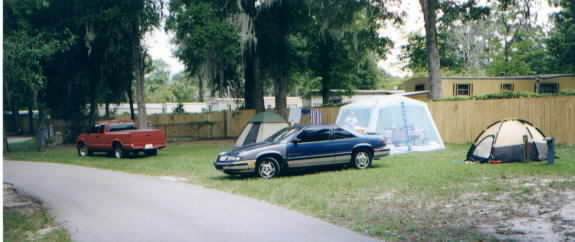 Group Camp East. Screen Room, Dave & Peggy's tens, Dan & Eilene's tent.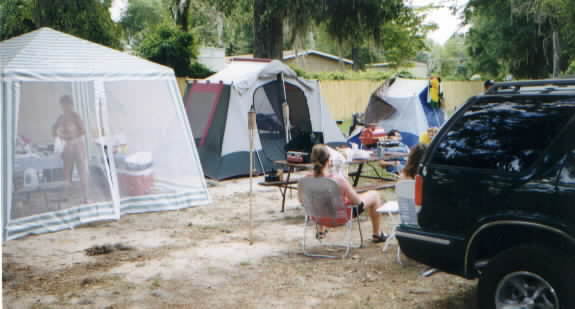 The Canoers Start Lineup.....My! We look fresh don't we?
L-R, Dave & Janie; (behind us) Scott & Linda; (right)Peggy & Dave; (right) Eilene & Dan; (behind them) Donna with Ken missing (he took the picture), Zulima & Andres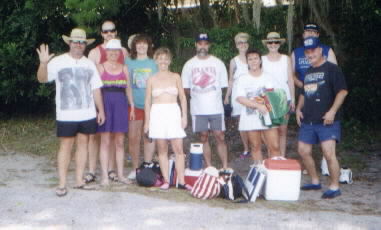 Lounge Chairs? In Canoes? Zulima and Donna tempt fate while bets are being taken on who gets an unexpected swim first.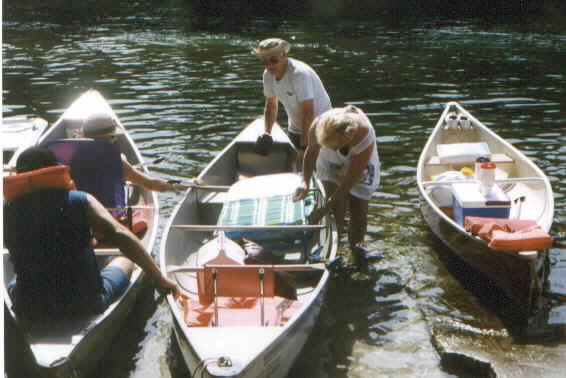 Donna looks like the Queen of the Nile....while Ken paddles the upriver leg of the trip. Puff...puff.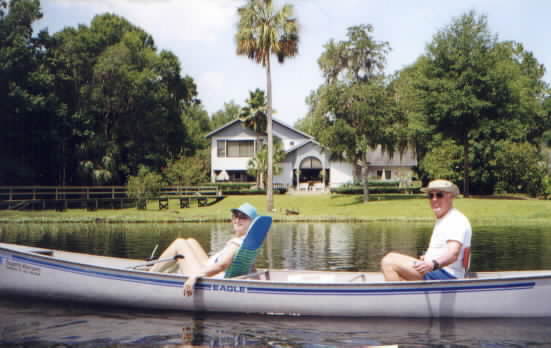 Dan & Eilene. Zulima & Andres (in blue canoe - you can't see them in this photo)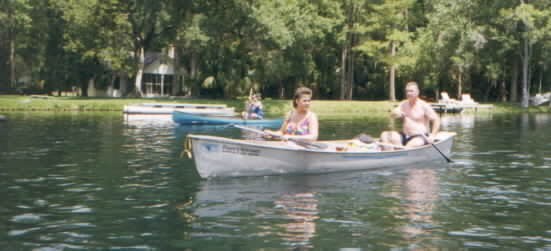 Terrorizing the River. "Panama" Dave and Scott flailing arms in the background. I had fingers crossed they weren't going to tip over again!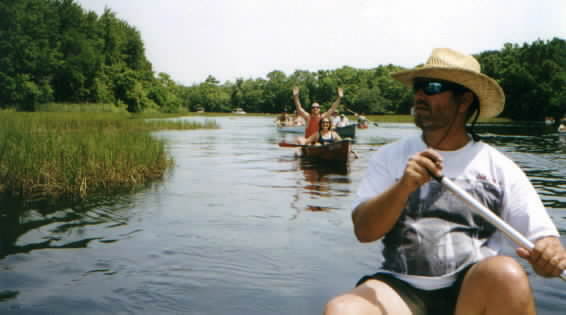 Turtle sunning on a log.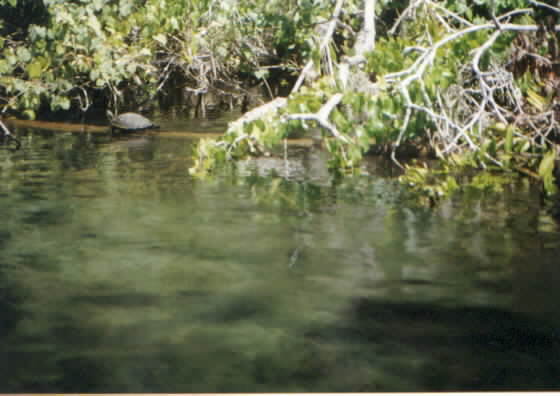 Lunch Break! Scott & Linda, Janie & Dave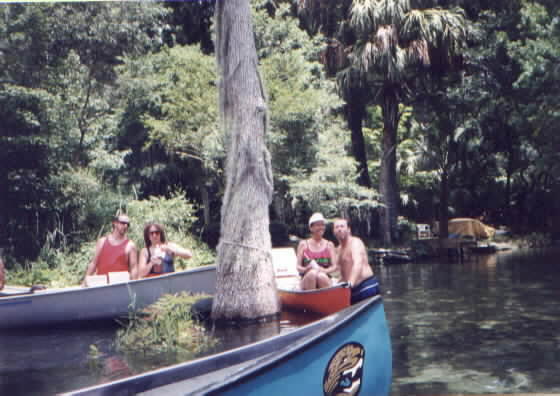 The "take out" point. We gather our stuff and are picked up to be taken back to our cars.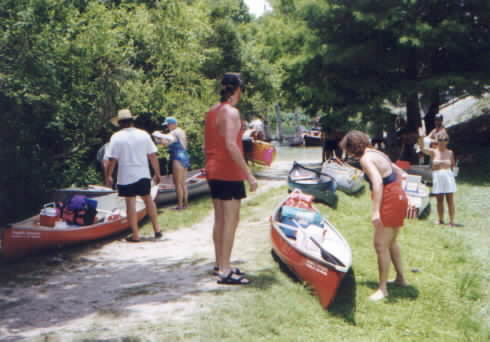 Group Camp at Night. After a great meal, we all relax and anticipate our canoe trip on the Rainbow River the next morning.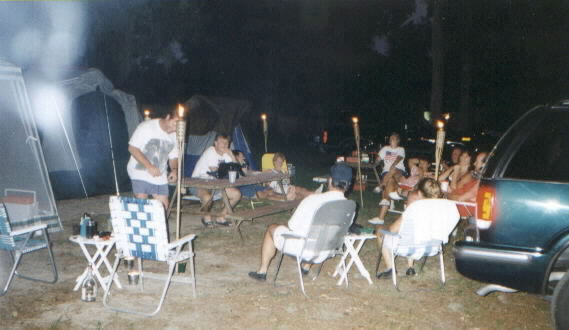 Group Camp Central. Dave & Janie's tent and Central Camp Screen Room.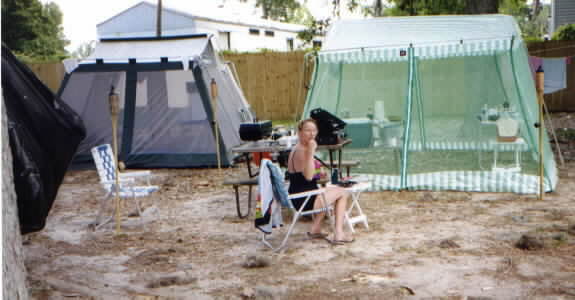 Very Clever, Dan & Eilene. They brought an air conditioner!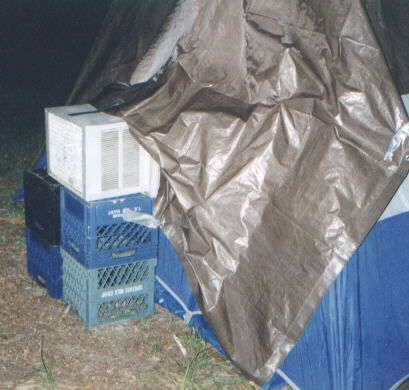 Some nice power boats launch ahead of us - the Ladies would like a ride!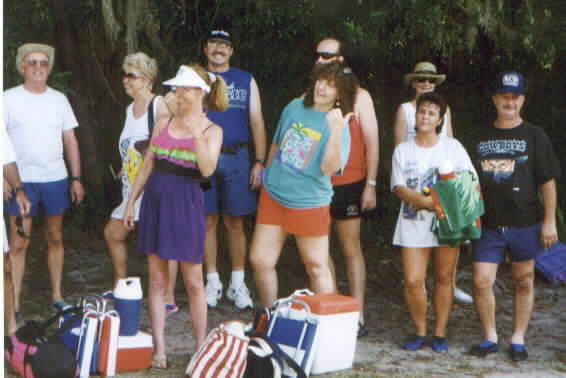 Surprise! Our only experienced canoers, Scott & Linda, were the first (and only) to dump just after launching and just after this photo was taken. Dave & I had to catch their stuff floating downriver.

Peggy & Dave looking smooth.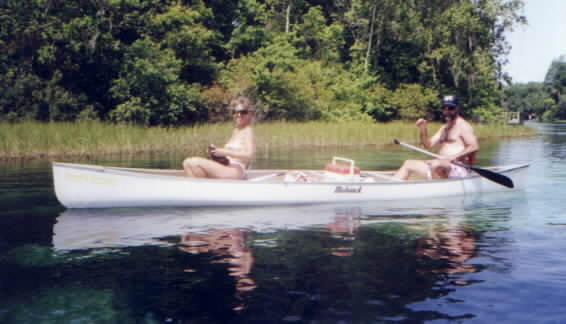 Scott's still bailing!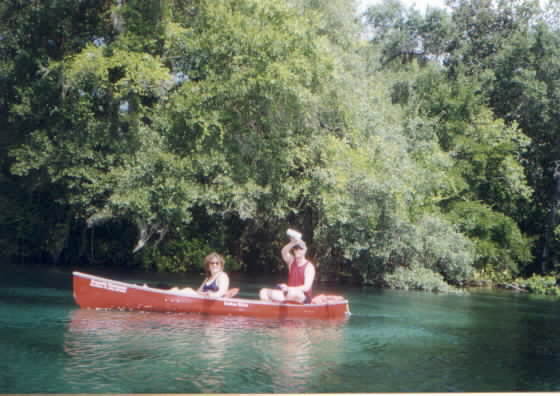 Anhinga's in the River. A great shot of one spreading his wings on a branch.

Lunch break! Ken and Donna (still in Lounge chair, still dry). Andres in blue canoe.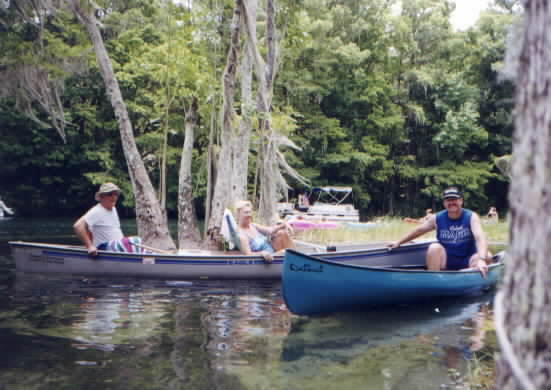 Back on the River, It's beautiful.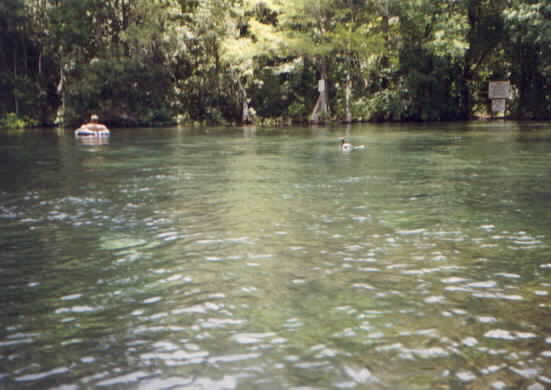 Back at Camp, another great meal....Pork chops, chicken and steak! Yummmm. Notice, Ken paddled all day - now Donna's serving him his meal.