About the Park

Named for the Silver River which runs through the park for about 4 miles, this park is stated as 2,300 acres in the Florida Parks Guide. However, the park brochure we received said it is a 5,000 acre park. Perhaps they have added to it?

It has 60 campsites on two loops. The sites are very large, level and nicely done with gravel - we had electric and water at ours for an extra $2.00 fee. Nearby new camping cabins are being added - very nice with two bedrooms will sleep four, LR with fold out sofa to sleep 2 more, Kitchen, DR, gas fireplace and a lovely screened wraparound porch. Dave & I decided we could live very nicely in one of these as a main House. One of the Park Rangers was kind enough to give us a tour of one when we had stopped on our bikes to check it out.

The camping facilities are first rate with a dishwashing and laundry area at the bathhouse. The showers were extremely large (with a good strong water flow!)and even heat lamps available in the two stalls. Paddle fans and an automatic air freshener were nice touches.

There were several hiking trails. We took the River Trail down to the Silver River area, about a 1/2 mile hike each way. We rode our bikes on the path because we never did find the bike paths. Aside from a few areas of soft sand the trail was ridable. The river area is nice with two picnic tables and more sitting benches for viewing. The River edge looked Sandy and solid, probably suitable for a quick swim as the area was roped off from the River, however, a sign warned about alligators. We weren't able to launch our canoe here due to the long hike to the river, however the Park Ranger told us about a park nearby (2 miles) on Hwy. 40 near the Oklawaha Bridge, called Ray Wayside Park. For a $2.00 fee we were able to make use of that facility to access both the Oklawaha and the Silver Rivers.

We also biked the Sinkhole trail (a hiking trail, but our bikes worked just fine) - about 2.1 Miles. I've seen more impressive Sinkholes that this one which was hard to view, but there were numerous signs along the way describing flora and fauna to make the trip interesting.

This park is still under development, so we expect additions will be made. We hope that includes river access for canoers!

Note: The State Park is about 1 mile from the attraction, Silver Springs, which has many activities and things to do if you're willing to pay admission (over $30.00 per adult). We opted not to visit - been there, done that.


On the Sinkhole Trail (2.1 miles), Dave explores a large downed tree covered in forest vegetation. This path was great for bikes or walking.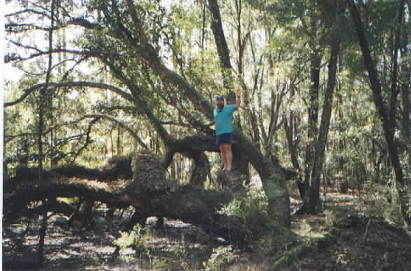 The view from the dock at Ray Wayside Park. Florida colors in early December. A Great Egret flys past to make this photo complete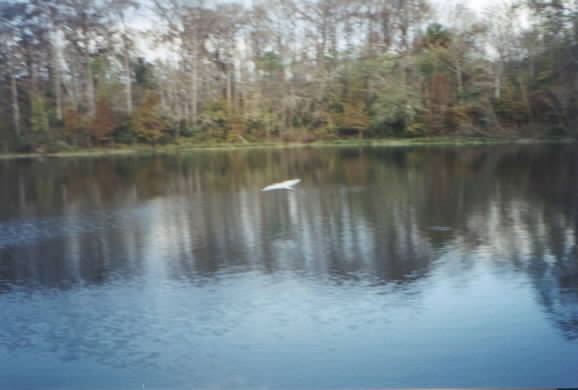 Man-made canal to the River. At the end of this canal you enter the Silver River. Go left and you will soon encounter the Oklawaha River where it joins the Silver River. The dark tannin stained waters of the Oklawaha River are a sharp contrast to the Silver River which is crystal clear.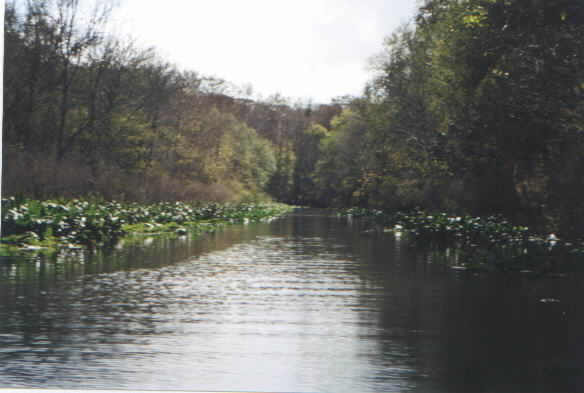 The banks of the Silver River at this point are mostly Cypress Swamp, unsuitable for development bu t excellent for wildlife habitat. The Tarzan movies were filmed here and wild monkeys, descendants of escapees of those movies, inhabit the forest.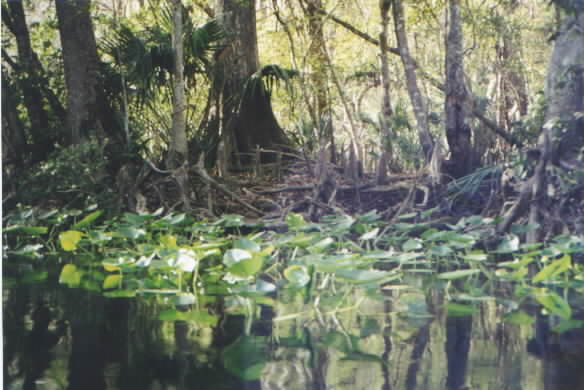 Great Sign - Bad Photo, sorry. It says:
"Warning. Monkeys are dangerous. Feeding is Prohibited."
We didn't see or hear any on this trip, but have on other trips.


Anhinga's or "snake birds", also called Water Turkeys perched on the limbs over the river searching for fish. In the water, their heads and snakelike necks protrude as they swim. When they spot a fish, they stab it with their sharp beak, toss it in the air and catch it in their beak to be swallowed.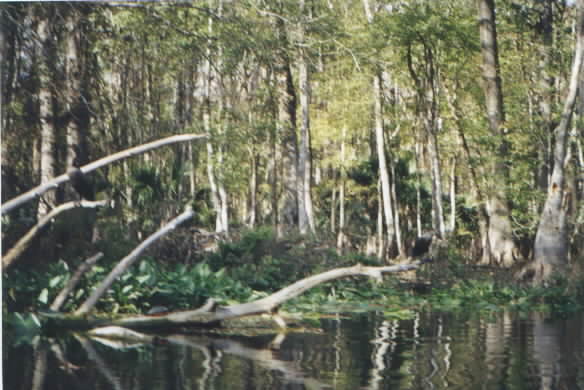 Turkey Vultures. Over one dozen on them perched on this limb. These birds are nearly eagle size and gather in large numbers. They feed on carrion and are scavangers in the forest and river banks to rid the swamp of dead animals. They are magnificent to view in flight.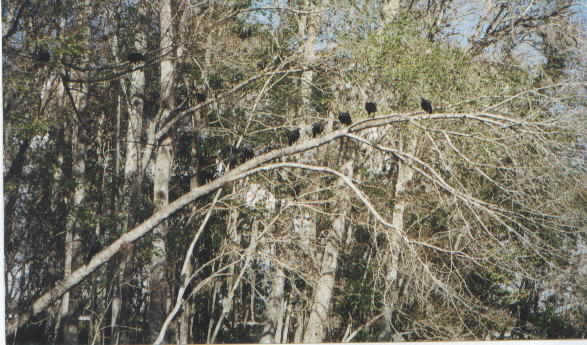 Great Egret in Flight. These are beautiful birds, quite abundant along the shores of Florida's rivers.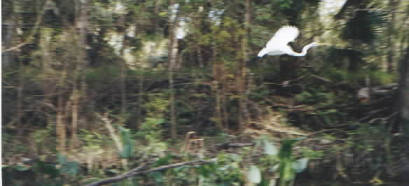 A Florida Holly Tree along the bank, decked in bright red berries in December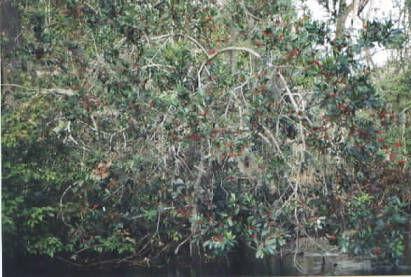 Lavender flowers on these bushes along the river, add a bit of color to the December landscape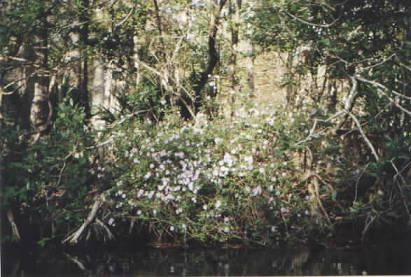 December Azaleas. These were not in the Park, but in our own front yard to greet us on our return from camping. They bloom twice each year and this year has been outstanding, holding their blooms for about two months. This species is Duc Du Rohan - one of my favs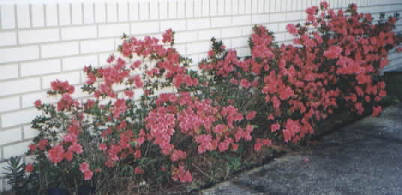 View of the Silver River from the River Trail at the Silver River State Park. This would be a nice place to put in our canoe if it wasn't for the half mile hike to this spot.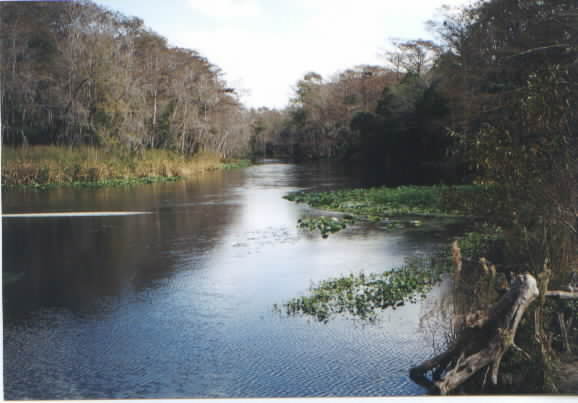 An egret monitors our canoe at the launch at the Ray Wayside Park, a 2 mile drive from the Silver River State Park at the base of the Okalawaha River Bridge on Hwy. 40. Cost is $2.00 to use this facility. 2 Boat ramps, a canoe launch, restrooms and a nice dock.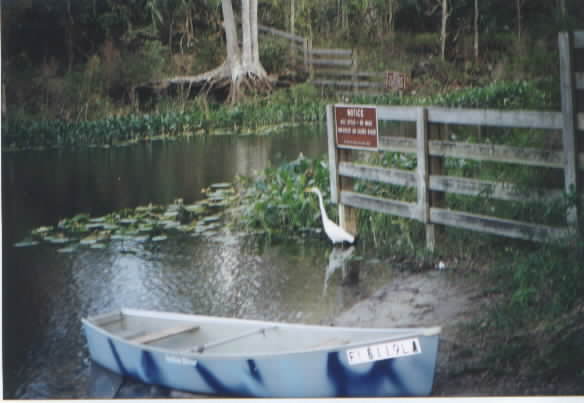 Go right at the end of the canal and you will paddle the Silver River which leads to the head spring of Silver Springs, the largest artesian Spring in Florida, perhaps in the world. It pumps 530 million gallons per day and is believed to be over 25,000 years old. It is the site of the renowed attraction of "Silver Springs, Florida". The Silver river is deep, as much as 30 ft. in some places - this photo taken from the surface at about 20 ft. deep.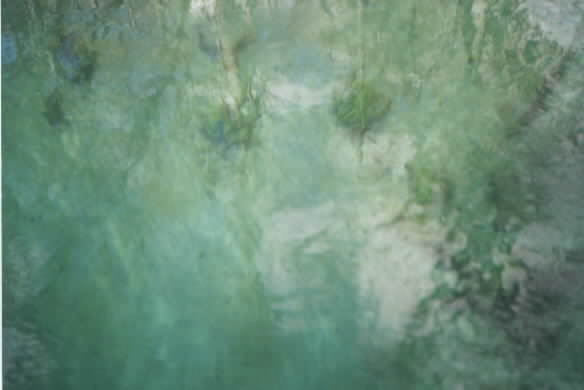 Anhinga Illustration from Peterson Field Guides, Eastern Bird by Roger Troy Peterson, fourth edition (pg. 41).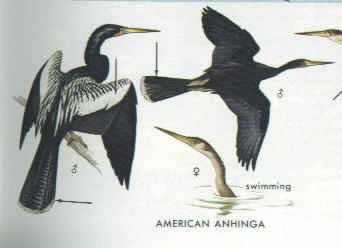 Illustration of a Turkey Vulture from "Peterson Field Guides,Eastern Birds" pg. 161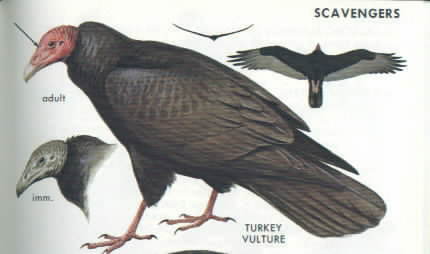 The beautiful Scarlet King Snake is a harmless and beneficial Florida snake, however, it is often confused with the deadly Coral Snake which has similar markings. The differences between the two are:
l. Coral snake has a black head - King snake a red head
2. King snake, red rings never touch yellow rings which are separated by black rings.
The Scarlet King Snake we saw on the Sinkhole trail looked like this one.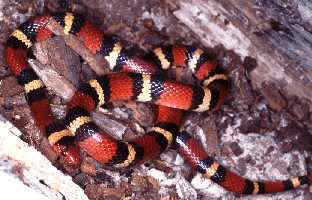 Eastern Coral Snake (venomous). Note the differences from the Scarlet King Snake. You can remember them with this rhyme:
"If red touches yellow, it can kill a fellow" (coral snake)
"If red touches black, it's a friend of Jack" (scarlet kingsnake)